A HEALTHIER EGGPLANT PARMESAN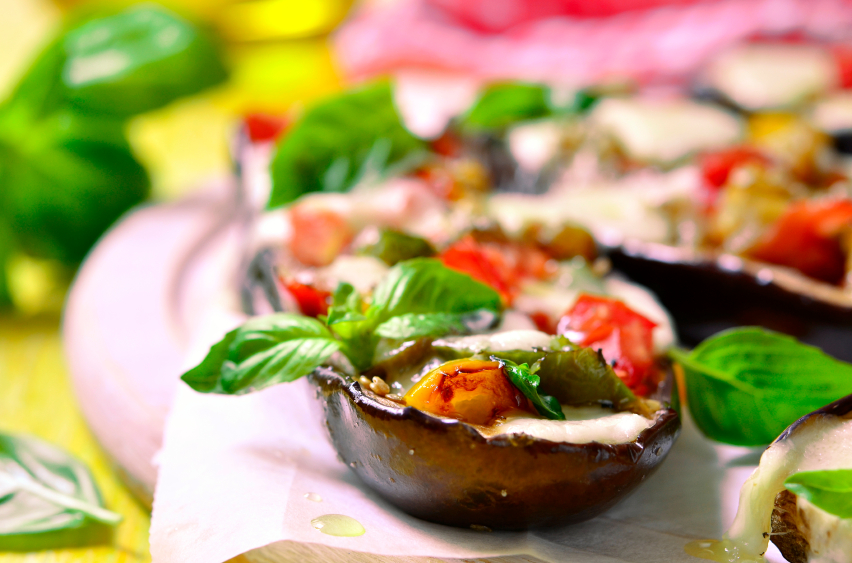 By baking the eggplant, you can keep fat to a minimum and maintain flavor.
2 egg whites
1 lb. eggplant, peeled and cut crosswise into
1/4-inch-thick slices
1/2 c. plain dried bread crumbs
2 Tbsp. olive oil
2 c. no-salt-added tomato sauce
1 c. canned tomatoes,chopped with their juice
1/4 c. chopped fresh basil or 1 tsp. dried
1/4 tsp. salt
1/2 tsp. black pepper
1 c. shredded part-skim mozzarella cheese (about 4 ounces)
1/4 c. grated Parmesan cheese
Preheat the oven to 400°F. Line baking sheet with foil sprayed with nonstick cooking spray.
In a shallow dish, beat the egg whites and 2 tablespoons of water until foamy. Dip eggplant into egg whites, then into bread crumbs, pressing crumbs into eggplant.
Place eggplant on baking sheet and drizzle oil over eggplant slices. Bake 30 minutes, turning eggplant over after 20 minutes, until golden brown and cooked through.
Meanwhile, in medium bowl, stir together tomato sauce, tomatoes and their juice, basil, salt and pepper. Spoon 3 tablespoons of tomato mixture into bottom of 9-inch-square glass baking dish. Place half of eggplant over sauce, spoon half of remaining tomato mixture over, and sprinkle half of mozzarella on top. Repeat this process.
Sprinkle Parmesan on top and bake for 20 minutes or until piping hot. Serves 4.
Source: AvMed Whole Health