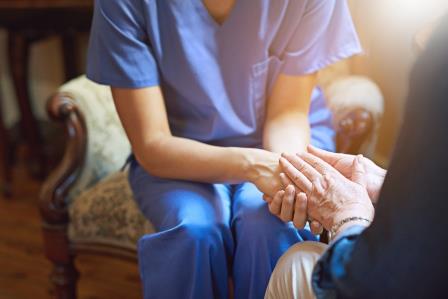 AvMed's Case Managers are registered nurses or social workers with extensive clinical experience in many specialties. They collaborate with Members and physicians to personalize a patient's suggested treatment plan and coordinate the different types of care most complex cases require. There is no cost for the programs and it is confidential.
Contact AvMed Case Management at 1-800-972-8633, select Option #3. We are available 8:00 a.m. to 5:00 p.m., Monday through Friday. We look forward to serving you, our valued Member.
Medical directors support the case managers, helping to ensure the use of clinical protocols proven by medical science. This, in turn, helps bring about the best clinical outcomes with the least amount of "red tape" for the member. AvMed designed this service for Members who have experienced a critical event or diagnosis that requires extensive use of resources.
Programs within Case Management include:
Complex Case Management
Short-term Case Management
Care Transitions
This program provides general information. It is not the practice of medicine or a substitute for services from your doctors. All questions about your health status and treatment should be directed to your treating provider. 
How does Case Management work?
We work with you to:
Define your needs and goals
Coordinate services with your provider(s), when you give us permission
Find new tools to meet your goals
Develop an individualized plan
Make proactive plans to prevent readmission to the hospital
Provide you with health information
How was I chosen to be in a program?
There are lots of ways we find members who may benefit from case management programs. Your provider may have told you about a program. If you were in the hospital recently or another program, they might have referred you to a case management program. You may be taking medications, have been diagnosed with or treated for a condition that may improve with the added support provided to you as part of a program. Your health plan may have referred you to a program. You can also refer yourself.
When are program services available? What are the hours of the program?
Case Management staff are available Monday through Friday from 8:00 a.m. to 5:00 p.m. by calling 1-800-972-8633 and choosing option 3;  TTY: <711>; or by emailing CM@avmed.org
What if I need assistance after 5 pm?
You can call the Nurse on Call line at 1-888-866-5432; TTY: <711> to speak confidentially with a registered nurse about any health concerns or issues. In an emergency, call 911.
Where do I find more information about this program?
Feel free to call us at 1-800-972-8633, option 3; TTY: <711> Monday through Friday between 8:00 a.m. to 5:00 p.m. to talk about our case management programs.
What if I'm not sure I want to be in a program?
If you do not want to be in a program now, that is okay. You can join a program in the future if you change your mind. You are able to opt-in and opt-out of any of our case management programs by calling 1-800-972-8633, option 3; or by sending an email to CM@avmed.org.
How can I give feedback on the program?
You can give us your feedback by calling 1-800-972-8633, option 3, TTY: <711> Monday through Friday between 8:00 a.m. to 5:00 p.m; or by sending an email to CM@avmed.org.
Each year, Members are also surveyed about satisfaction with this program. If you receive a letter or call regarding your participation in this program, we hope you will take a few minutes to participate.