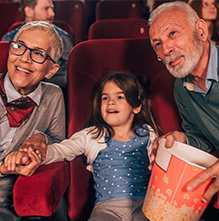 Our hearing changes as we age and has a profound impact on our lives. It's important to take care of it, and even more important to recognize when it's time to address any hearing loss.

We've partnered with NationsHearing to provide our Medicare Members with comprehensive hearing coverage.
You have the option to take a hearing exam from the comfort of your home. All you need is a computer or device with an Internet connection and a set of headphones or earbuds. You have the option to choose the digital experience and then schedule an appointment with a local provider for a hearing aid fitting and evaluation. 
For more information regarding the Digital Hearing Exam, please contact 1-877-272-0587.
Hearing Benefits Overview

As an AvMed Medicare Member you'll enjoy:

$0 copay for annual hearing exam
$0 copay for hearing aid fitting and evaluation
 Hearing aid allowance, up to $1,500 per ear every two years
3-year warranty
3-year supply of hearing aid batteries
One-year loss and damage coverage (deductible applies)
 Trial period
3-year manufacturer repair warranty

Please contact NationsHearing at 1-877-239-2946 (TTY 711), Monday-Friday from 8 am-8 pm, to schedule an in-person hearing service.