Get Rewarded for Healthy Living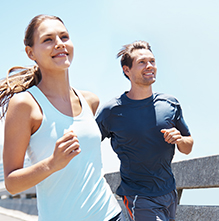 When your employees look after their health, you'll be rewarded for their healthy living with the HealthyWorksTM program. This incentive program gives employers* like you up to 10% back on premiums for helping employees lead and maintain healthy lifestyles.
Plus, when you help your employees live a more WELLfluentTM life through our weight reduction and smoking cessation programs, you will see a benefit to your bottom line and a happier, more productive workforce.
Contact your AvMed Sales Representative to start getting rewarded today.
Additional Employee Services Available
Along with the weight reduction and smoking cessation programs, AvMed offers additional services that support your employees.
SmartShopperTM – A powerful tool that rewards eligible Members with cash back when they choose the best care at the best price. Learn more
Virtual Visits – Real-time access to interactive consultations with board-certified physicians from the computer or smartphone, anytime, anywhere with Virtual Visits. 
Care Support – AvMed's case managers are available to assist Members in selecting the best site of service, provide prescription drug adherence support, and guidance to help manage chronic conditions. Learn more
*Healthyworks program is for fully-insured groups with 51+ employees.